A simple side stand foot you say...
We asked a lot of riders what their experience was.
Some of our design objectives:
1. Minimal impact on raising and lowering the side stand. Our first proto mimicked the stock shape and just made it larger. We immediately found out that shape needed to be fine tuned...so we did.
2. A better fastening system. We ended up using Disc-Lock (r) washers to secure it. Disc-Lock washers actually mechanically lock. I never knew they existed until we sought a better fastening system and they came up. They're pretty neat:
www.disc-lock.com
With their combined thickness of 1/8", the way they are countersunk and the fact that the bolt heads actually go over the stock steel foot, it meant we didn't need to use a top plate. The "hitting it with a hammer 50 times" test also proved that it was solid.
3. Of course maximum size, but making sure it didn't protrude too far outside of the profile of the bike so it won't get excessively damaged (or do damage) or hang up on trail side "stuff".
4. Reasonably priced! With some of them hovering around $50 and higher we figured we could do better...
Some pics:
proto #2 with (over-sized countersinking for different washers) but showing the rough final shape meeting all the requirements. Notice lot's of hammer marks
Close-up of Disc-Lock washers trying to loosen on proto #2. Essentially the pitch of the ramps in the washers is different that the pitch of the thread so when it tries to loosen the resistance actually increases. Far more expensive than regular stainless steel washers but worth it.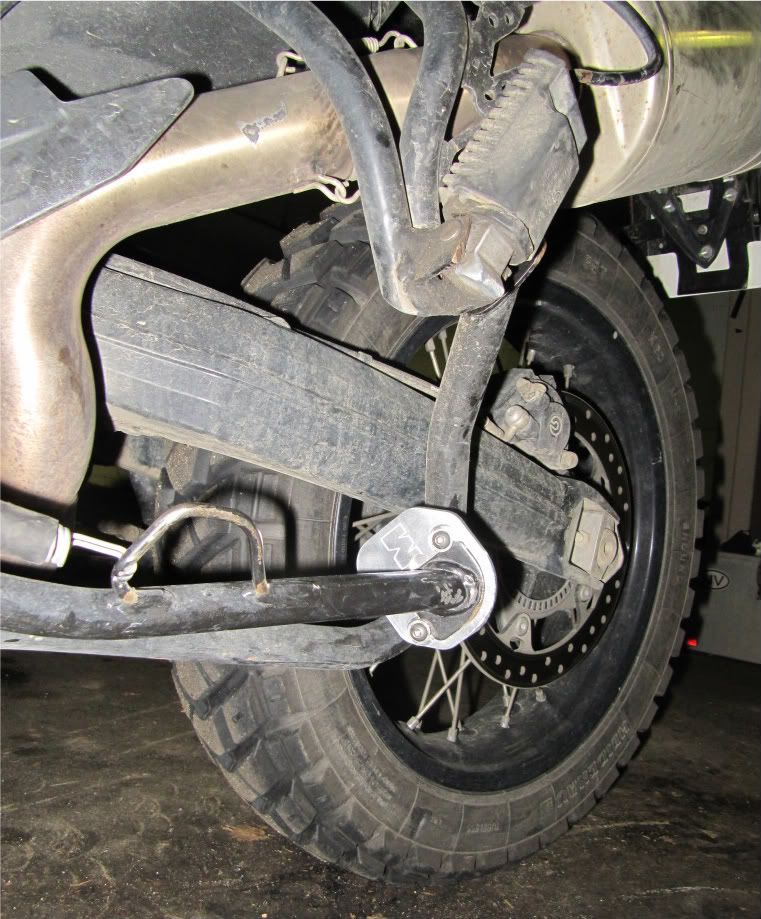 Minimal protrusion from the bike. No sharp edges. Lots of clearance for centre-stand and swing arm (more than it appears).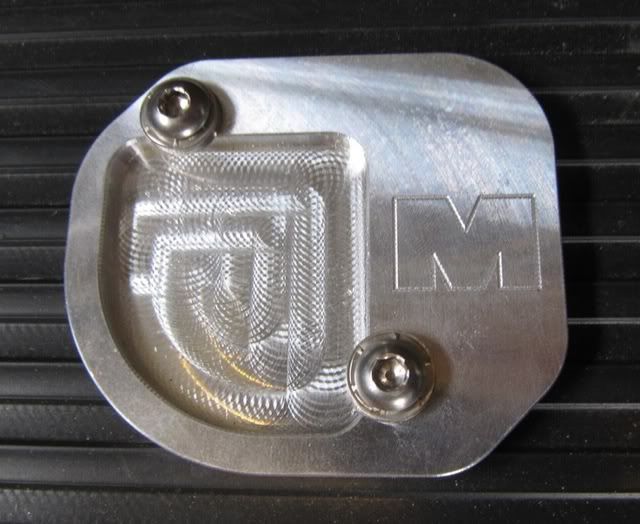 Final production version! CNC machined 6061 aluminium, 2.5x the size of the stock foot. Only weighs 59g. Simple, effective, much more reasonably priced ($29.99 MSRP...the least expensive of any that I've seen) and made here in BC of course
More info here:
http://motooverland.com/index_files/Page1682.htm
F650 GS version to follow. (The F650 side stand is actually the mirror image of the F8 one).
Check your local BMW dealer for one.
Thanks for lookin!
Dave
www.motooverland.com
Last edited: