First off Happy Holidays to everybody and best wishes for a happy and healthy New Year (with lots of riding!!)!
We are getting ready for the Vancouver Moto Show again this year and there's going to be a lot going on at our booth!
Looks like there are over 140 different exhibitors so far!! We're at booth #420.
We will have Giant Loop's New Siskiyou panniers on show (they're not available until mid Feb.) and some other new Giant Loop gear that's all to be shown for the first time in North Amercia!!
The proto panniers that we showed last year and I ran this season: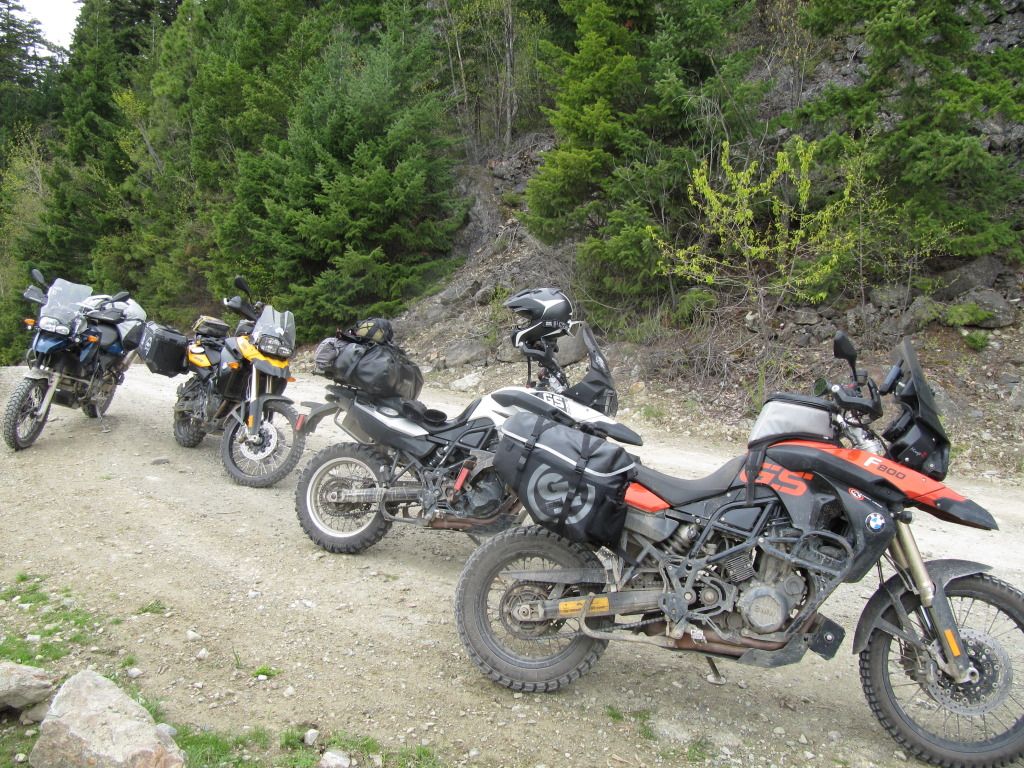 The finished version not called the Siskiyou and available mid-Feb.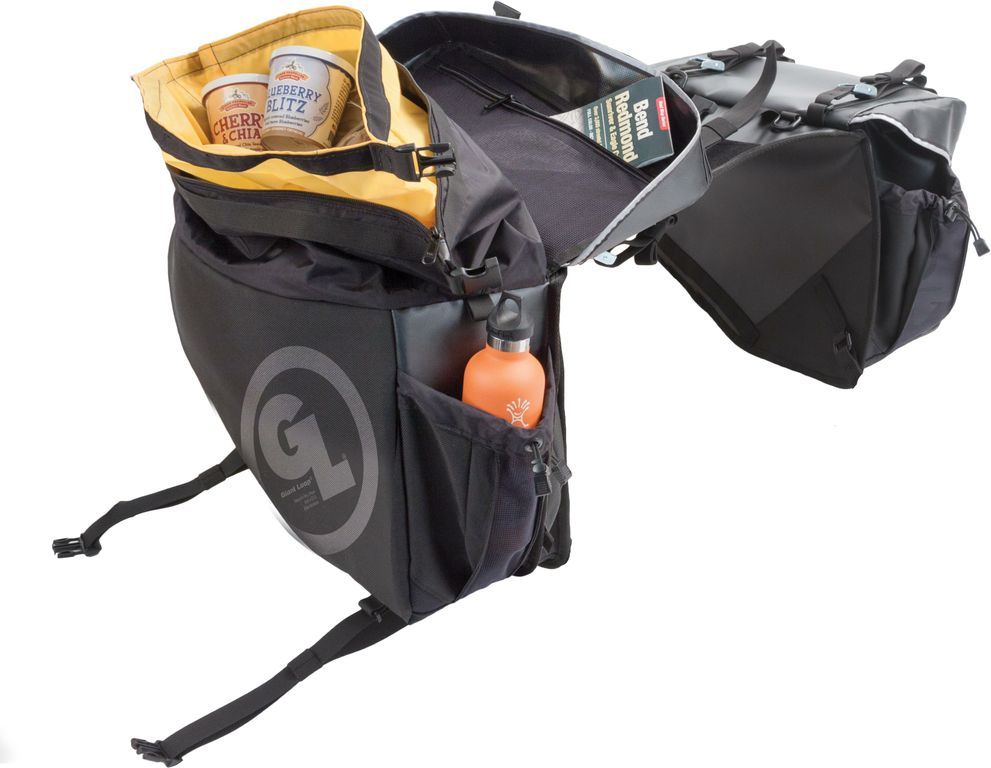 Details and pics of the upcoming Giant Loop Siskiyou Panniers:
-70L capacity
-removable 100% waterproof roll top liners included
-2 large bellowed pockets up front that will fit up to a 2L bottle
-zippered mesh pockets under lid
-multiple lash points for additional dry bags and gear
-adjustable width for use with or WITHOUT side racks (pic above is without)
-includes two Hot Springs Heat Shields
-the typical heavy duty GL construction with the Cordura overlay on the bottom.
Then there's the Fort Rock Top Top Case:
Designed for two-up touring and to surround the passenger in comfort and provide and astounding 120L of space for bulky light stuff. Typical heavy duty GL construction.
We'll also have the new ZigZag Handlebar bag: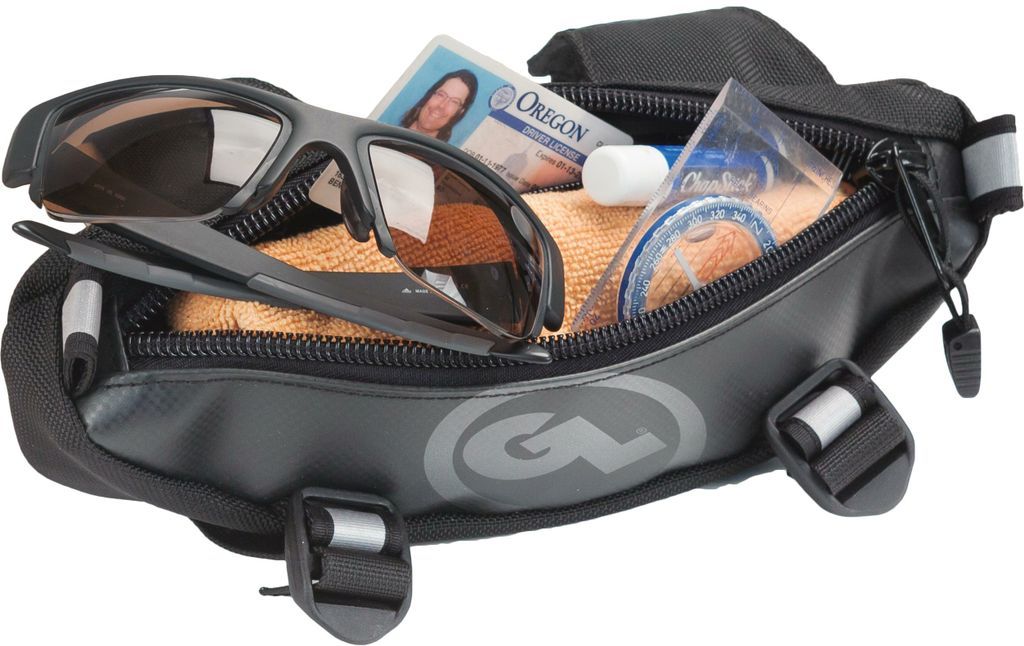 The perfect out of the way place to stash the stuff you want quickly like your camera/phone/id etc on you bike without using a tank bag at all. Perfect for the hardcore dirt rider!
SHOW SPECIAL!!
We just got another run of our BMW F800 GS (also fits the new (Husqvarna TR650 Terra!) and F700/F650 GS Side Stand Feet done so we're going to do the same special as last year!!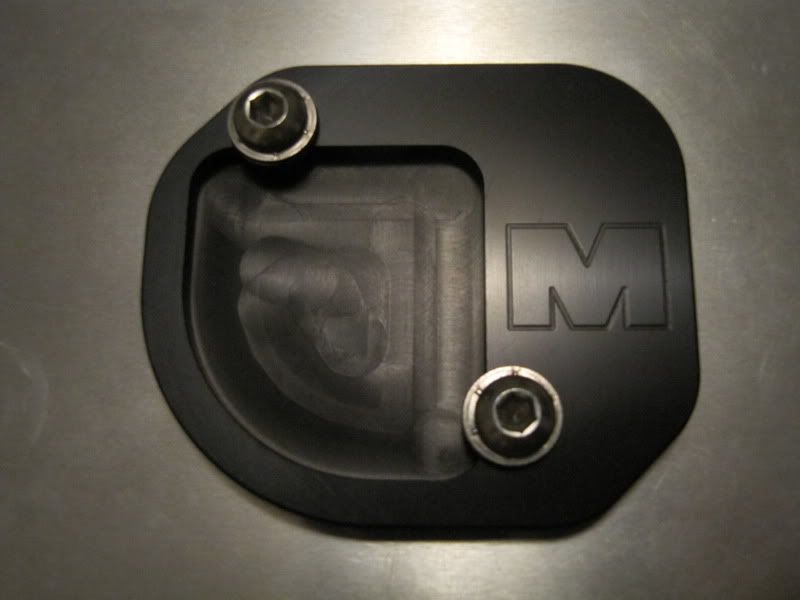 There are two versions available:
BMW F800 GS -all years & 2013 Husqvarna TR650 Terra (Strada to be confirmed)
BMW F700GS/F650 GS (twin -not lowered) -all years & 2013 BMW F800GS lowered suspension
They share the same features and shape specifically designed not to impede the raising and lowering of the side stand (NO counter leaning!!) and the footprint is 2.5x the size of the stock foot.
-CNC machined from 6061 Alu.
-come with stainless steel patented Disc-Lock (r) washers and stainless steel bolts. Disc-Lock (r) washers actually mechanically lock and are true locking washers. The only ones recognized by the US Military as such.
-Black HARD anodized. 2x the thickness of standard anodizing
-we have had nothing but rave reviews on them!
Here's the entire thread if you want to read about the development (and feedback) of them:
http://www.dualsportbc.com/forums/showthread.php?9284-MOD-BMW-F800-GS-Side-Stand-Foot
We are going to have these on
special at the Vancouver Moto Show
but some of you won't be there so if you are experiencing some "it's January and I can't ride my bike at all/much (for some anyhow) but I want something neat for it but I don't have any money" Then we'll have a special for you too!
They will be on for $30.00 CAD instead of $35.83 CAD after tax at the show and for anybody else; $30.00 CAD and free shipping ANYWHERE in the world (errr if the post goes there that is...so not if you're in the middle of a trip in the Sahara!).
This will be on for a
limited time only starting now
and we'll be out at the show from Wednesday January 16th. thru to Sunday January 20. The special will go until the end of January and we don't have thousands of them so be quick!
We bill via PayPal. You may use any credit card, no PayPal account needed. Email us at sales(at)motooverland(dot)com if you're interested.
The New V2 version of our BMW F800/F700/F650 GS Skid Plate (
http://www.dualsportbc.com/forums/showthread.php?6886-MOD-F8-GS-skid-plate
)will be on show too as will the Tool Box and all the Top Racks (
http://www.dualsportbc.com/forums/showthread.php?7014-MOD-F800-GS-top-rack
) of course.
We'll also have info and details on the 2013 Rocky Mountain GS Challenge August 16-18 2013! I've been to the first one they had there so I can give you some first hand info and details.
More news to come!!
Ask away if you have any questions!
Dave
www.MotoOverland.com
Last edited: